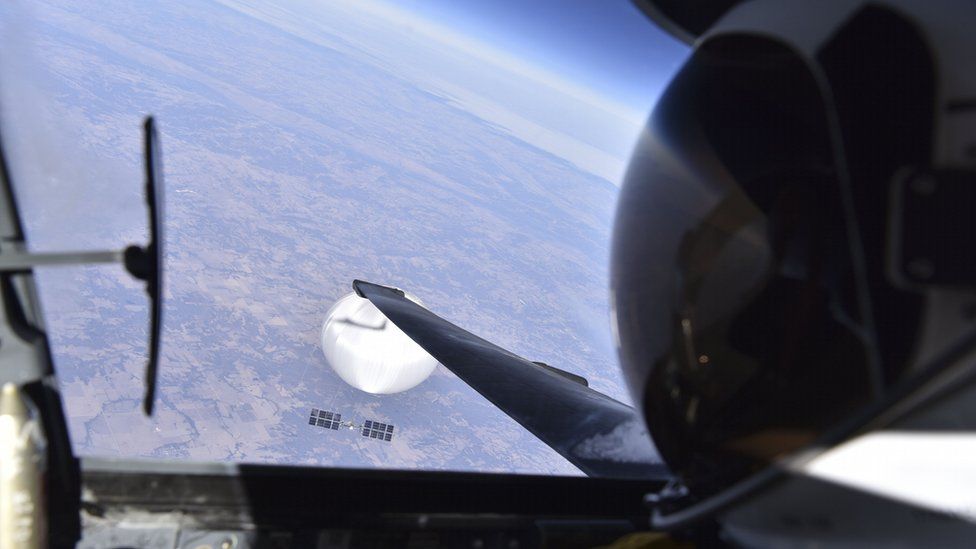 The US Department of Defense has released an image taken by an airman as he flew over the Chinese balloon shot down earlier this month.
The selfie was taken from the cockpit of a U-2 spy plane as military leaders tracked the high-altitude balloon's progress over the continental US.
Beijing has maintained that the balloon was a weather ship blown off course. But Washington says the balloon was part of a sprawling Chinese intelligence collection programme.
As the balloon flew over US territory, at least two planes gathered information on its features and trajectory.
A senior State Department official said earlier this month that fly-bys revealed it "was capable of conducting signals intelligence collection operations". Officials first became aware of the balloon when it crossed into Alaskan airspace on 28 January.
Fighter jets belonging to the North American Aerospace Defense Command (NORAD) – a joint operation between the US and Canada – identified the foreign object, but the military did not shoot it down at the time.
Officials explained they could not shoot the balloon down over land because its size and likely debris field posed a threat to civilians on the ground.
One defence official told US lawmakers earlier this month the balloon was as tall as the Statue of Liberty and had "a jetliner-size payload".
The image released on Wednesday was taken the day before the aircraft was shot down off the coast of South Carolina on 4 February. It has reportedly "gained legendary status" inside the Pentagon.
The balloon was said to be hovering at 60,000 feet (18,200m) in the air. U-2 planes routinely fly at altitudes over 70,000 feet, according to the Air Force.
The single-seater reconnaissance and surveillance aircraft, nicknamed the Dragon Lady, were previously flown by the CIA. Pilots are required to wear full pressure suits similar to those worn by astronauts.
Recovery efforts for the balloon's scattered remnants in the Atlantic Ocean ended last Friday. Pieces of the debris, including its payload, have been recovered and are being studied, the Pentagon's deputy press secretary Sabrina Singh said.