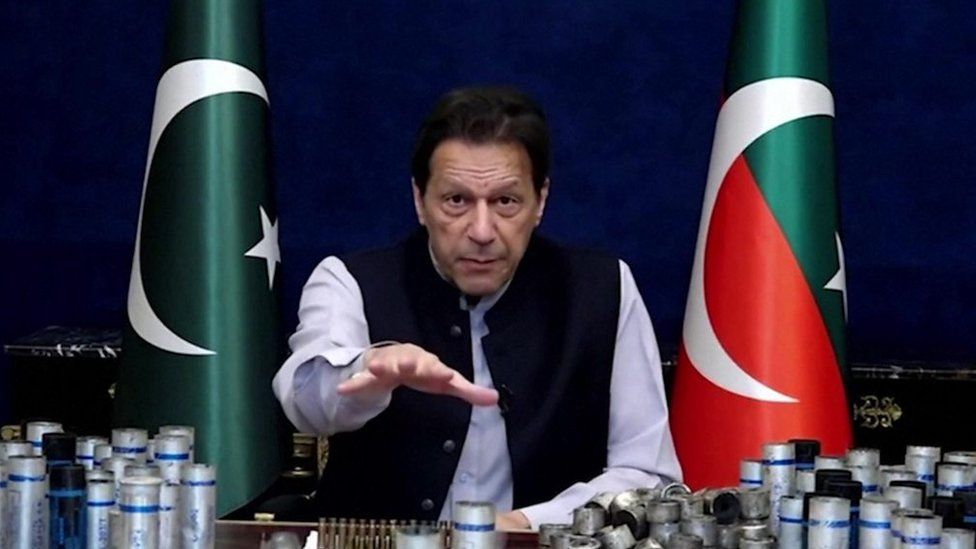 Violent clashes have broken out in Pakistan between security forces and supporters of former prime minister Imran Khan after he was arrested on Tuesday.
Protests are erupting nationwide, and at least one person has been killed in the city of Quetta.
Mr Khan was arrested by security forces at the High Court in the capital, Islamabad. Dramatic footage showed dozens of officers arriving and detaining the 70-year-old, who was bundled into a vehicle and driven away.
He was appearing in court on charges of corruption, which he says are politically motivated.
Mobile data services in the country were suspended on the instructions of the interior ministry on Friday as protests grew, many of them taking place in front of army compounds. Pakistan's army plays a prominent role in politics, sometimes seizing power in military coups, and, on other occasions, pulling levers behind the scenes.
Footage from Lahore posted on Twitter appeared to show a crowd breaking into the military corp commander's house destroying furniture and belongings inside.
Mr Khan was ousted as PM in April last year and has been campaigning for early elections since then. General elections are due to be held later this year. Writing on social media, police in Islamabad said five police officers had been injured and 43 protesters arrested.
It said at least 10 people, including six police officers, had been injured in the south-western city of Quetta in clashes between Mr Khan's supporters and security forces – with one protester killed.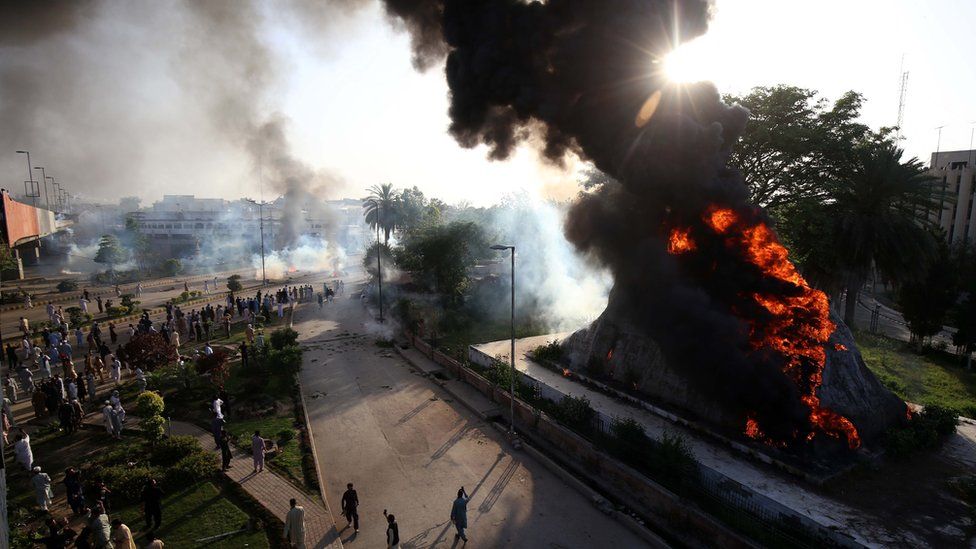 A statement from the inspector general of Punjab police said the arrest of Mr Khan had been ordered because he was accused of "corruption and corrupt practices". The case involves allegations over the allotment of land in the so-called Al-Qadir Trust, which is owned by Mr Khan and his wife, Dawn newspaper reported.
Mr Khan, who is being held at an undisclosed location, denies breaking any law.
In a video message filmed as he travelled to Islamabad – and released by the PTI before his arrest – Mr Khan said he was ready for what lay ahead. "Come to me with warrants, my lawyers will be there," he said. "If you want to send me to jail, I am prepared for it."
The security forces have tried to detain him on a number of previous occasions at his Lahore residence, but were blocked by his supporters, resulting in fierce clashes. On Tuesday, police had blocked roads into Islamabad, so the number of supporters with Imran Khan was not as high as on previous occasions, making it easier to arrest him.
He was elected prime minister in 2018, but fell out with Pakistan's powerful army. After a series of defections, he lost his majority in parliament. He was ousted after he lost a confidence vote in April 2022, four years into his tenure. Since then, he has been a vocal critic of the government and the country's army.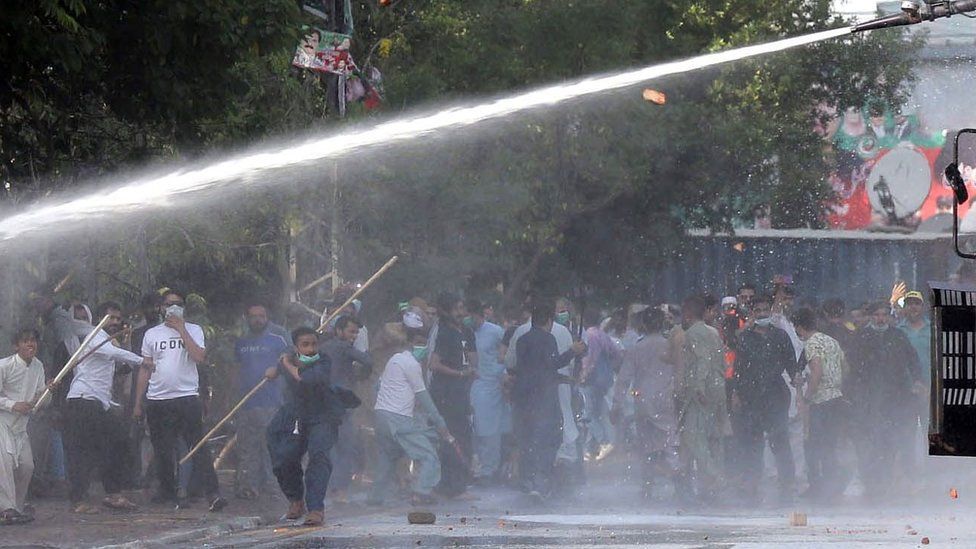 In October, he was disqualified from holding public office, accused of incorrectly declaring details of presents from foreign dignitaries and proceeds from their alleged sale.
The next month, he survived a gun attack on his convoy while holding a protest march.
On Monday, the military warned him against making "baseless allegations" after he again accused a senior officer of plotting to kill him.