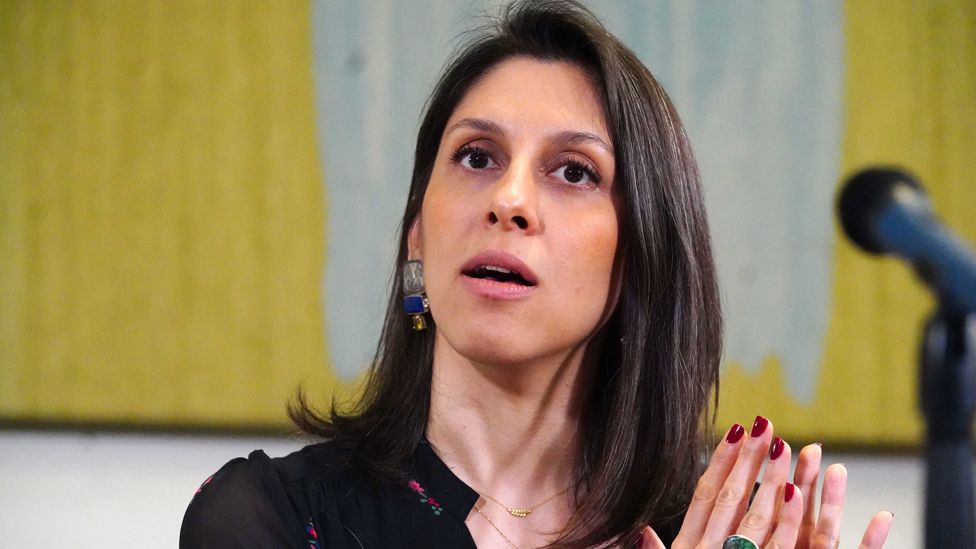 Nazanin Zaghari-Ratcliffe has said it should never have taken the government so long to secure her release from prison in Iran.
She told a news conference she had been overwhelmed with emotion to be reunited with her husband and daughter, describing the reunion as precious. But she said "what's happened now should have happened six years ago". The British-Iranian was speaking for the first time since her dramatic return to the UK last week.
Mrs Zaghari-Ratcliffe was arrested on spying charges while visiting her parents in Iran, with her then two-year-old daughter Gabriella, in April 2016. Last week, she was freed after spending six years in detention. Her release came after the UK government paid a £400m debt to Iran dating back to the 1970s, although both governments have said the two issues should not be linked.
Speaking to the media in Westminster, Mrs Zaghari-Ratcliffe thanked all those who had worked to get her released, paying tribute to her "amazing, wonderful" husband, Richard Ratcliffe, who she said had campaigned tirelessly. She also thanked her daughter "for being very, very patient with mummy". But she took issue with the credit her husband had granted Foreign Secretary Liz Truss for her release, saying:
"I have seen five foreign secretaries change over the course of six years. How many foreign secretaries does it take for someone to come home?" She added: "We all know… how I came home. It should have happened exactly six years ago." Describing her arrival back in the UK, Mrs Zaghari-Ratcliffe recalled the "precious" and "glorious" feeling of stepping off the plane and seeing her daughter again.
"I had been waiting for that moment for such a long time," she said. "It was lovely to get to hold her, to braid her hair and to brush her hair. That was a moment that I really, really missed."
She said she was looking forward to getting to know Gabriella better again and doing everyday things like taking her to school. Also speaking at the news conference, Mr Ratcliffe joked that it was "nice to be retiring" from his role as a campaigner, and thanked everyone for "making us whole again".
"I'm so pleased she's back home, that she came home to us. We're still negotiating whether daddy's allowed in the same bed as Gabriella and Nazanin. We'll get there." Mr Ratcliffe continued: "I think we'll do this and then we will disappear off and heal a bit." Mrs Zaghari-Ratcliffe declined to speak about her ordeal, saying it would always haunt her.
But she added: "I always felt like I was holding this black hole in my heart all these years… I am going to leave that black hole on the plane." While in Iran in September 2016, Mrs Zaghari-Ratcliffe, a project manager for the Thomson Reuters Foundation, was accused of plotting to overthrow the Iranian government and was given a five-year sentence. Then, in April 2021, she was sentenced for another year on charges of propaganda against the government.
Mrs Zaghari-Ratcliffe has always denied those allegations and said that she was only in Iran to visit her family. Speaking on Monday, she said she had been told by Iranian authorities shortly after her arrest that they wanted "something off the Brits", and that they would not let her go until they had got it. "And they did keep their promise," she said.
Earlier during her visit to Westminster, Mrs Zaghari-Ratcliffe met Speaker of the House Sir Lindsay Hoyle in his parliamentary rooms. The Speaker told her "the whole nation rejoiced" when she returned to the UK. He added: "You have achieved something that many others before you have not – in uniting the House in their efforts and hope to get you home."
Another British-Iranian national, Anoosheh Ashoori, was released at the same time as Mrs Zaghari-Ratcliffe. But Mrs Zaghari-Ratcliffe also used the event to draw attention to the plight of other dual nationals still detained in Iran. Morad Tahbaz, who has British, Iranian, and American citizenship, remains in detention, and there are numerous people from other countries who are being held on various allegations of working to undermine the Iranian regime.
Mr Tahbaz's daughter, Roxanne, also appeared at the conference, and said her family felt her father had been "abandoned and left behind" in Iran. She said they had been told by the Foreign Office that Mr Tahbaz would be included in any deal to release hostages in Iran, and called on the prime minister and the foreign secretary to continue to work for his release.
"I believe that the meaning of freedom is never going to be complete until such time that all of us who are unjustly detained in Iran are reunited with our families," Mrs Zaghari-Ratcliffe said. "There are so many other people – we don't know their names – who have been suffering in prison." Tulip Siddiq, Labour MP for Hampstead and Kilburn, has called on the Foreign Affairs Select Committee to investigate why the debt the UK had with Iran took "so long" to be paid.
Ms Siddiq – who represents Mrs Zaghari-Ratcliffe's constituency and has called herself the "Nazanin MP" – said she had written to the chair of the committee, Tom Tugendhat. Mr Ratcliffe welcomed the investigation and said it would be "really valuable for Parliament to take up that challenge and to talk it through".