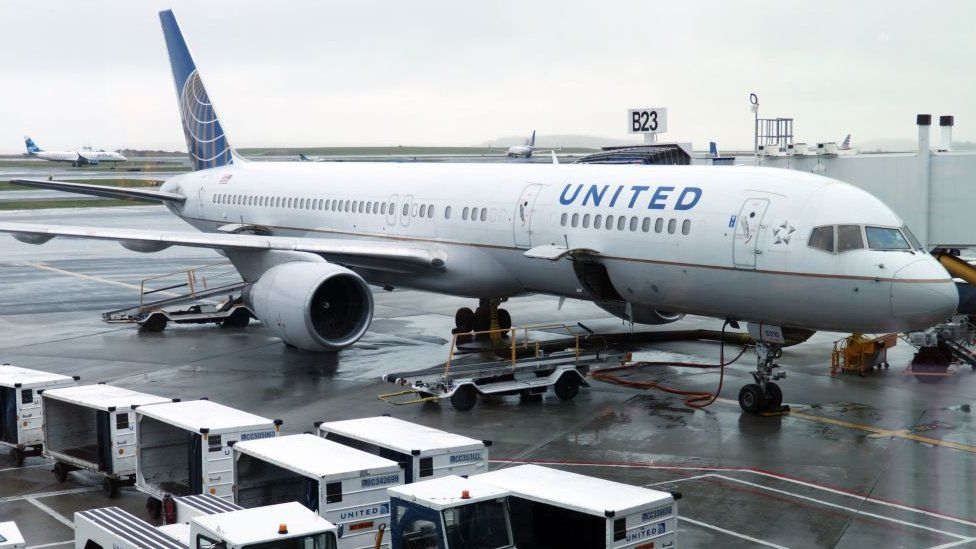 A man has been arrested and charged after he allegedly disarmed an aircraft door mid-flight and attempted to stab a flight attendant, US officials said.
Francisco Severo Torres, 33, sparked panic on the Los Angeles to Boston flight after he was seen pacing near an aircraft door before crew were alerted it had been disarmed.
Mr Torres was then said to have used a broken spoon to attack a crew member. He was arrested at Boston's Logan International Airport on Sunday.
The United Airlines flight was due to land in less than an hour when flight crew in the cockpit saw an alert that a door had been "disarmed", charging documents said.
A flight attendant was asked to investigate and discovered the door's lock handle had been moved from the fully locked position and its emergency slide disarmed.
Cabin crew quickly suspected Mr Torres had moved the handle as he had been seen loitering by the door earlier.
When an attendant confronted him, Mr Torres allegedly asked if there were cameras in the area around the door.
Following the interaction, the attendant is said to have told the captain the passenger "posed a threat to the aircraft and that the captain needed to land the aircraft as soon as possible", according to charging documents summarised by the Department of Justice (DoJ).
Soon after, Mr Torres got out of his seat and began walking towards the flight attendants before lunging at one "with a broken metal spoon, hitting the flight attendant on the neck area three times", the summary said.
Passengers on-board tackled Mr Torres after he attacked the flight attendant, it added.
Mr Torres had apparently been acting oddly, even asking a fellow passenger where the emergency exit was located during take-off. According to CBS News, Mr Torres told police he thought the flight attendant had been going to kill him.
The flight was able to land safely and United Airlines thanked the "quick action" of crew and customers. Mr Torres has been banned from flying on United.
The DoJ says the "interference and attempted interference with flight crew members and attendants using a dangerous weapon provides for a sentence of up to life in prison, up to five years of supervised release and a fine of up to $250,000".
Mr Torres, the DoJ added, "is presumed innocent unless and until proven guilty beyond a reasonable doubt in a court of law".