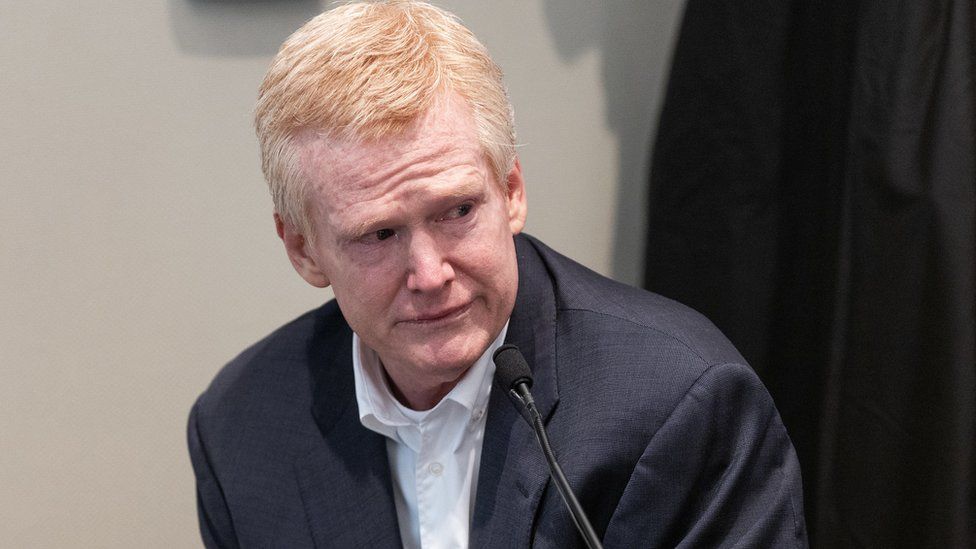 A former South Carolina lawyer who was convicted in March of murdering his wife and son has been now charged with 22 counts of financial fraud.
Prosecutors allege Alex Murdaugh, 54, defrauded his clients out of millions of dollars in settlement funds.
He is accused of three schemes, including stealing settlement funds from his housekeeper's death in a reported 2018 fall at Murdaugh's home.
The charges include conspiracy to commit wire fraud and money laundering.
Murdaugh is currently serving life in prison for the murder of his wife, Maggie, and son, Paul. He is appealing the conviction.
He hails from a prominent legal dynasty in South Carolina and ran family's personal injury law firm for decades.
In that role he defrauded clients out of millions of dollars in settlement funds, according to a statement on Wednesday from the South Carolina district attorney's office.
Murdaugh is alleged to have conducted multiple schemes to "personally enrich himself", including intercepting proceeds from insurance claims and depositing them into personal accounts, the indictment says.
It also claims that Murdaugh defrauded the family of his former housekeeper, Gloria Satterfield, after she died following fall at his home.
After Ms Satterfield's death, prosecutors claim that Murdaugh directed another attorney to deposit more than $3m in insurance settlement funds into an account he set up "presenting" as a legitimate corporation for structuring insurance settlements.
The funds in the account were instead used "for his own personal enrichment" and were never received by the family, the indictment alleges.
In a statement, Murdaugh's lawyers said their client has been cooperating with prosecutors and federal agencies "in their investigation of a broad range of activities".
"We anticipate that the charges brought today will be quickly resolved without a trial."